A lack of awareness of modern dental treatments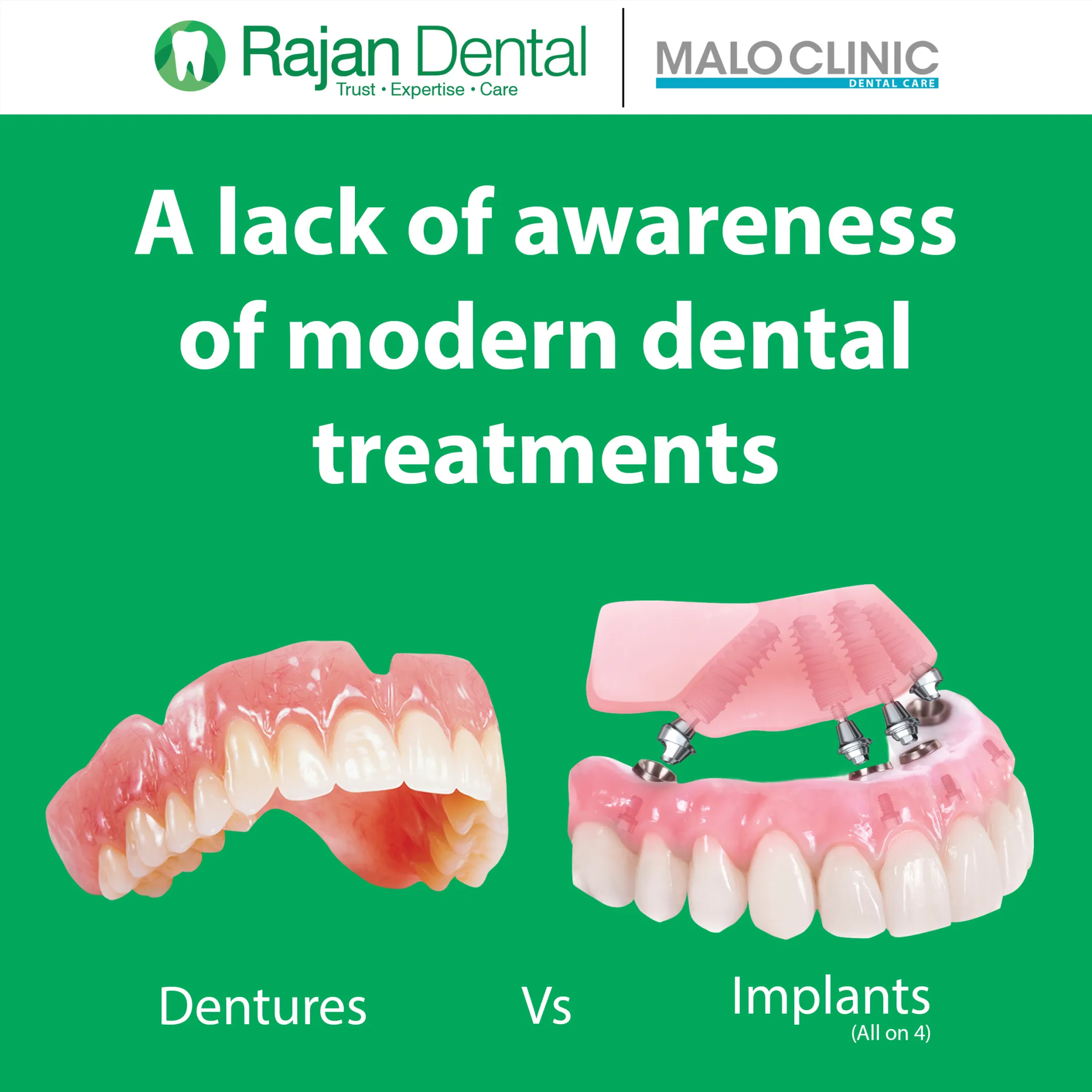 The most significant issue with oral and dental health in contemporary India revolves around awareness. There exists a general lack of oral health awareness and its direct relevance and correlation to overall health. This is due to the lack of oral health services in close proximity as well as a lack of elementary education in the matter. There is an undeniable contribution from oral health to systemic health which must be reinforced into the common mind.
Revolutionary treatments and equipment in the technological age has resulted in great leaps and bounds in the types of painless dental treatment offered and available. However, the awareness of these existing treatments are minimal.
One such example is in the case of dentures. Dentures were the most common treatment available to people that lost their teeth due to an accident or old age. However, dentures resulted in long term damage by altering the shape of a person's face and issues regarding loss of jaw bone, dietary restrictions and cleanliness. Treatments such as All-on-4 implants enable the same people to get a new set of teeth that are permanently fixed in their mouths acting as a significantly better option giving none of the previous problems associated with dentures.
In India, awareness comes about primarily through word-of-mouth. The population are aware of treatments only by hearing about other people that have experienced a similar situation. Due to the prevalence of dentures, the people remain ignorant and afraid of the newer All-on-4 treatment. While this is also a solution, it is certainly not the best solution
Rajan Dental hospital was the first clinic in India to perform All-on-4 implants, full mouth implant treatment and continues to perform upto 25 All-on-4 implants every month with a 99% success rate. We have witnessed an increase in awareness through word of mouth and are hopeful for a much wider reach of awareness for the future. Similar problems are also seen in the case of procedures involving intra-oral digital scanning and advanced laser dental treatments.