HOW TO FIGHT SUGAR CRAVINGS TO PROTECT OUR TEETH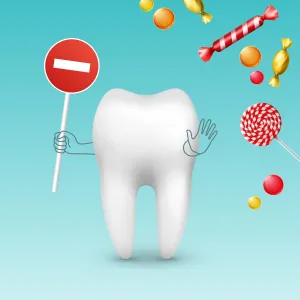 Consuming a lot of sugar, not only impacts our oral health negatively but also our entire well-being. Constant intake of sugar establishes the growth of plaque, cavities, and tooth erosion. Bacteria thrive in our mouths at all times. When the consumption of sugar happens, part of it stays in our mouth and is utilized by bacteria as a fast source of energy. Bacteria is capable of breaking down sugar and acid is produced which consumes the enamel of your teeth that results in cavities.
STEPS TO CONTROL OUR SWEET TOOTH CRAVINGS FOR BETTER ORAL HEALTH:
For most individuals, reducing the quantity of sugar in their meal plans is difficult. Sugar has been known to have the same addictive properties as smoking, liquor intake, etc. You may satisfy your sweet tooth wisely by following a few measures. To reduce cravings and safeguard your teeth, follow these suggestions.
● DRINK WATER AND STAY HYDRATED
Our bodies might misunderstand thirst for hunger, leading us to believe we're hungry when we're thirsty. When we have cravings, consider sipping a glass of water and wait a few minutes to figure out whether it was cravings or thirst. If the urge persists, consider substituting a nutritious meal or a healthy sweet snack. If you are unable to brush immediately after eating, drinking water boosts saliva formation and prevents sugar from adhering to your teeth. This way the bacteria that indulge in sugar and destroy enamel are washed out. This leads to keeping cavities at bay.
● HANDLING TEMPTATIONS
Addressing your temptations is an important aspect of overcoming sugar cravings. Consider nutritious meals and snacks when you go grocery shopping, and try to avoid adding sugar to your basket. Added sugar may be found in a variety of foods, including sweetened yogurts, barbecue sauce, and salad dressings. However, keeping sugary foods and sodas out of your house or office makes it simpler to make the correct choices.
● WALK AWAY
The desire to snack and consume sugary foods typically arises when we are bored. If the chocolate or a sweet dish at the front desk tempts you, simply walk away. This will help you control your mind and body which results in a strong and disciplined individual.
● CONSUME FIBER-CONTAINING FOODS
When one's hungry, it's natural to go for meals that provide quick gratification, such as sugar. Whether you're trying to cut back on added sugar, see if you need to add more fiber to your diet. Fiber can help you feel fuller for longer, which can help you control your hunger and minimize cravings. Examples of fiber-containing foods – beans, peas, nuts, seeds, wholegrain cereals, etc.
● FRUITS SHOULD NOT BE EXCLUDED
Fruit is healthy in ways that sugar isn't because it contains vitamins, antioxidants, and anti-inflammatory chemicals, whereas sugar is just empty calories. Whole fruit is inherently sweet, but if you're buying dried or canned fruit, read the label to see whether there's any added sugar. Fruit is a wonderful source of diet for satisfying your sugar cravings while also keeping your health in check.
● GUM TO YOUR RESCUE
Chewing gum is a fantastic method to keep your mouth occupied, and the saliva produced by chewing is beneficial to your oral health. If you choose sugar-free gum, you'll be distracted and dodge your cravings as well.
● LIMIT YOUR INTAKE OF PROCESSED FOODS
Sugar can be hidden in the ingredients list of processed foods, even if they don't appear to be sweet. Sauces for example have hidden sources of sugar. So study the labels and choose wisely what you consume.
● ALLOW YOURSELF TO INDULGE ONCE IN A WHILE
To maintain a healthy lifestyle, you don't have to eliminate all sugar. In fact, feeling deprived may contribute to overeating. Instead, pick one meal every week when you may indulge in a small sweet treat. Knowing that you can have something you enjoy will help you feel less constrained, and you'll be able to enjoy your favorite meals more fully. Sweets might be destructive to your dental health. You could just find the strength to reject that second helping of dessert if you understand why you want sweets and the harmful impacts of sugar-laden meals. Remember the importance of oral health and continue regular oral habits like brushing, flossing, and visiting the dentist every six months.
Contact or Visit us at Rajan Dental for your overall oral well-being, since it is our only priority.
Get assured quality plus comfortable treatment at Rajan Dental.
Book Your Appointment – https://www.rajandental.com/book-now/