Rajan Dental Announcement of Business Alliance with Malo Clinic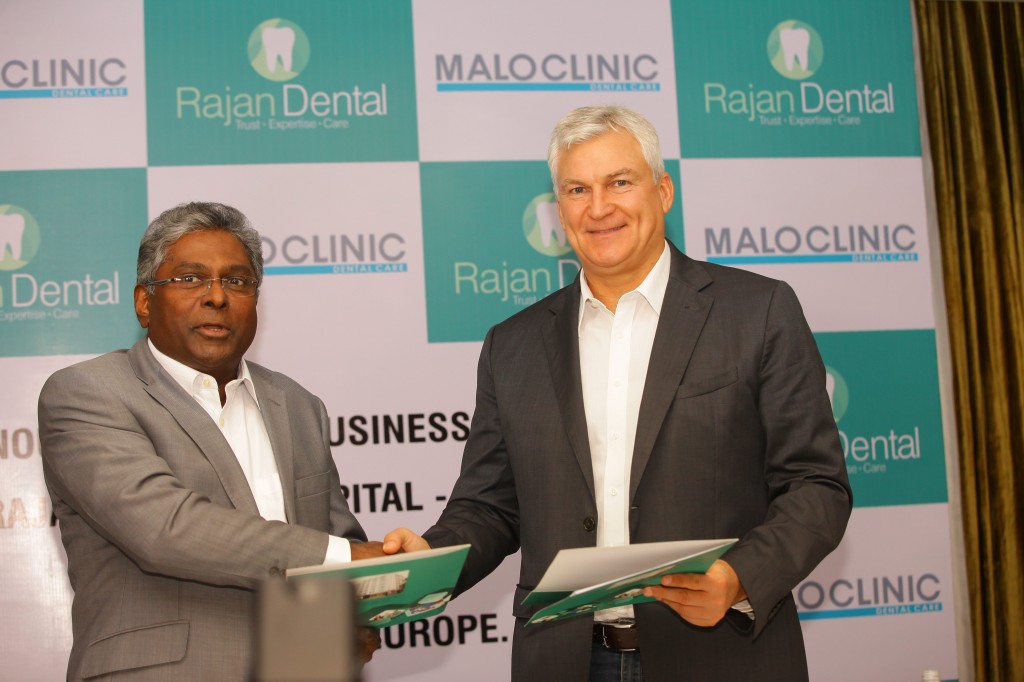 Rajan Dental, Chennai's Largest Dental Hospital & India's pioneer Dental Implant Center for Hi-tech Implantology, is collaborating with Worlds Leaders in Dental Implantology & World's largest Dental Hospital from Europe, Malo Clinic.
This collaboration will bring in technological advancements and European protocols for providing advanced dental treatments in India. By this collaboration Rajan – Malo Clinic will be establishing Premium Dental Clinics across India. By this collaboration the dentists and para-dental staff in Rajan Dental Hospital will be trained by Malo Clinic, in Europe, in advanced dental treatments, Laboratory Technology, and advanced Implantology.
Rajan Dental's Business Alliance with Malo Clinic at Press:
Kural TV: Announcement of Business Alliance Rajan Dental Hospital – Chennai With Malo Clinic – Europe
Cinemaplus News: Announcement of Business Alliance Rajan Dental Hospital
The business cooperation agreement for this alliance will be jointly announced by Dr. Paulo Malo & Dr. Gunaseelan Rajan on 26th October 2016 in the launch program scheduled at Hotel Raintree, Anna Salai by 11.30 a.m.

Malo Clinic was founded by Dr. Paulo Malo in Portugal, Europe, and is spread in 5 continents, 30 countries across the globe. Dr. Paulo Malo also founded the All-on-4® technique for providing permanent dental solution to edentulous patients. Malo Clinic at Lisbon, Europe, is the world's largest Dental & Implant Clinic.
Rajan Dental Hospital, Chennai was founded way back in 1961 by Late Dr. B.P. Rajan who was the president of Dental council of India (DCI) and Vice Chancellor of The Dr. M.G.R. Medical University. Rajan Dental Hospital is the pioneer in India in advanced dental surgeries and is the leader in specialized dental implants. Dr. Gunaseelan Rajan, Oral & Maxillofacial surgeon is one among the very few in the country to hold both medical and dental degrees with 30 years plus expertise in Dental & Implant Practice. He is credited with bringing in cutting edge dental implant technology such as Zygoma Implants, Orthodontic treatment ,Guided Implant surgery, Teeth in an hour concept etc to India.
dt NEXT: Rajan Dental inks pact with European oral healthcare chain

Andhra Jyothi
Sakshi Telegu:
Malai Malar:
Daily Thanthi:
News Today:
Alwarpet Times:
Nungai Times:
Rajasthan Patrika: